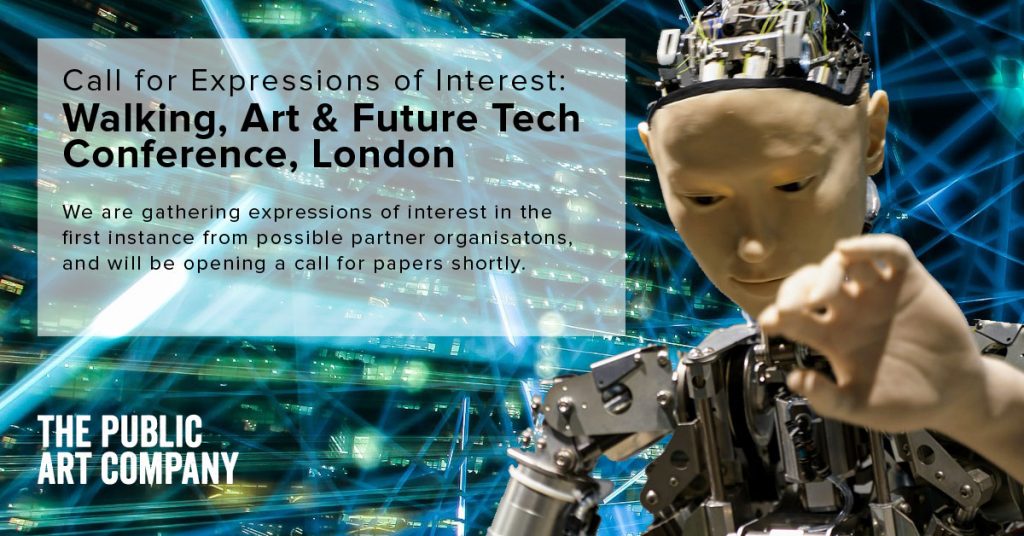 Our sheduled conference in June 2020 was put on hold due to Covid 19. Whilst we have been supporting other groups to move forward with digital events, our conference is still on hold. However we are still open to expressions of interest, see below… and one day soon will be opening the books for a social, in the flesh event again!
Call for Expressions of Interest:
Walking, Art & Future Tech Conference, London
Curated by Public Art Company, with University partnership, we are planning to offer a conference of art based solutions highlighting how walking projects can engage with communities, and help us reach environmental goals. We aim to inspire you to create ideas and solutions in your own public spaces, though and exciting mix of; talks, walks, psychogeography, installations, performance, film and virtual media.
We are gathering expressions of interest in the first instance from possible partner organisatons, and will be opening a call for papers shortly.
Please fill in the following form:
https://forms.gle/UNzdVQhfsuVnbz1S7
Further Information
Walking has never been more important for towns and cities to consider. This conference aims to bring together walking artists with those who influence our towns and cities, to create a dialogue between arts and public spaces which will encourage the creative application of walking.
We welcome submissions from walking artists, academics, environmental specialists and architects and planners.
We will consider:
How can the arts can engage with communities through walking.
Encouraging the promotion of walking as an environmental choice through art and design.
Future tech – what has the future got in store for walking and walking art?
What will it give you?
Inspire architects and planners to think outside the box and achieve more creative outcomes.
Introduce those in walking industries to artists in the field.
Offer new ideas and approaches to walking though virtual tech.
We hope to:
Open up a dialogue though the arts about how a creative approach can enable communities to come together to create environmentally sound walking trails and pedestrian solutions in our public spaces.
Engage and entertain though a series of seminars, break-out sessions, walkshops, exhibits, stands and live art happenings to create an atmosphere of inspiration, in a fantastic warehouse venue in central London with good transport links to all the home counties.
We will be inviting speakers from here and abroad to share their knowledge, inspire you and encourage dialogue throughout the day.
There will be an after party for post-conference diatribe, and we offer the invitation for performance artists and DJ's to get involved.
Who is our conference aimed at:
Walking artists, academics in the arts, walking organisations, town planners, town centre managers, trail designers, walking industries, walking outfitters, tech companies with walking strategies, tech companies looking to get into walking, academics in the field. Anyone who walks…
Speakers:
We will be open to speakers, walk leaders, posters and artist interactions applications shortly, please sign up to the expression of interest form to be notified as soon as we open for papers: https://forms.gle/UNzdVQhfsuVnbz1S7
For further information please contact us via info@thepublicartcompany.co.uk
Sponsors & Partners
We will be open to partner organisations to get involved and sponsors for the event shortly. As part of this we will be offering:
Academic Parternship
Corporate Sponsorship
Stall Holders
VIP Guests
For more information please speak to us via: info@thepublicartcompany.co.uk or 07950 50836488