I had the pleasure of attending the 'How to Design a Walking Trail' a walking conference in Paris, organised by the Metropolitan Trails Academy1. They shared their 'urbaniste' philosophy along the sixteen mile route. This cooperative of authors participates in the creation of the soon to be launched 'Metropolitan Trail of Greater Paris.' Their modus operandi being one of walking and oral histories, and not of signed trails, they use points of interest as reference points on the trail to evoke discussion, without a guide these trails do not exist.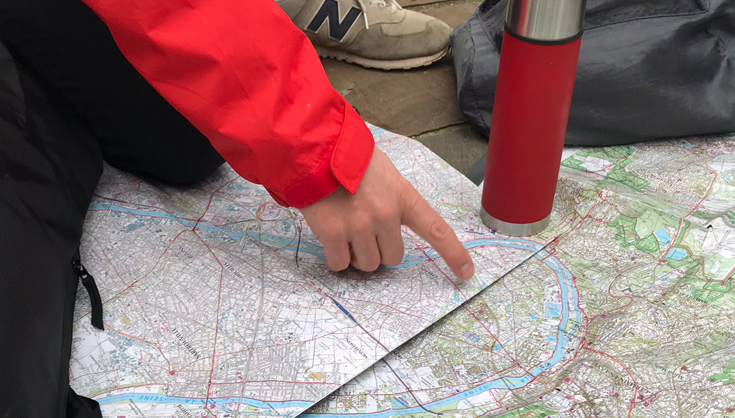 Starting on the outskirts of Paris in the royal city of Saint-Germain-en-Laye we heard talk of how we would be crossing founding myths and stories of Greater Paris, from the Saint Simonians to the Celtic tribes of Nemetodurum on our route.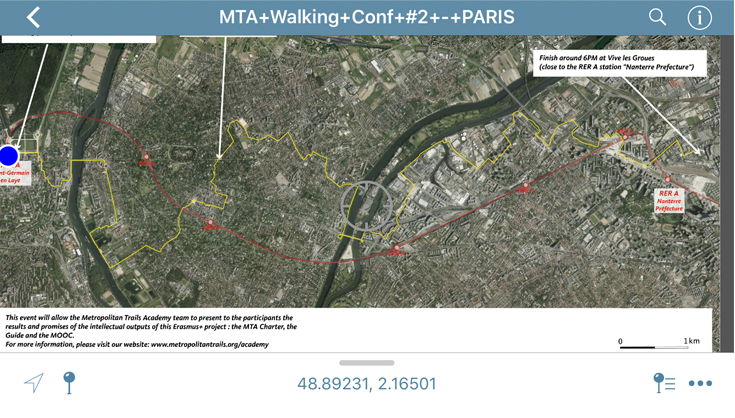 Baptiste Lanaspèze and Paul-Hervé Lavessiere, along with colleague Alexandre Field (Bureau des Guides du GR2013) talked to us about the editorial and production aspects of metropolitan trails, through the examples of Marseille and Paris.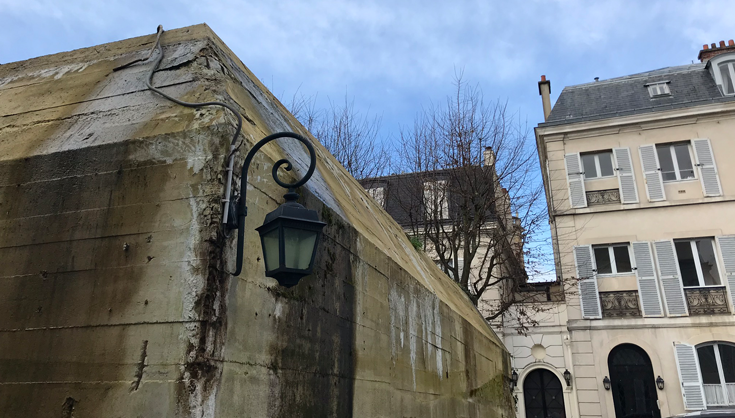 We headed out from this well to do Parisian suburb and walked though residential areas, alighting in the spot of a former hunting forest we talked about the origins of roundabouts, allowing the hunters in the forest good site-lines to the kill, at a point where a sculptural deer stands proudly on the roundabout to a 'new town' an area of development driven by the arrival of the railway into this district. Its hunting heritage was replaced with suburban houses, although the hunting we are told was not very good here! These icons of former histories remain on the town map.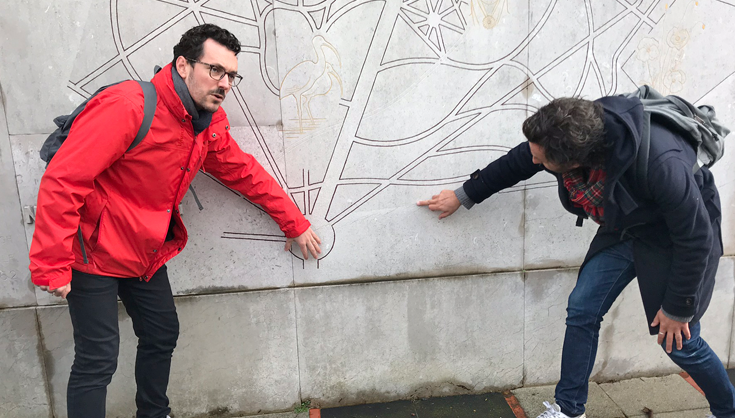 We loosely follow the river, past pumping stations and a wier, down flights of typically French steps with metal hand rails. Weaving in and out of the urban and heading inwards towards the centre…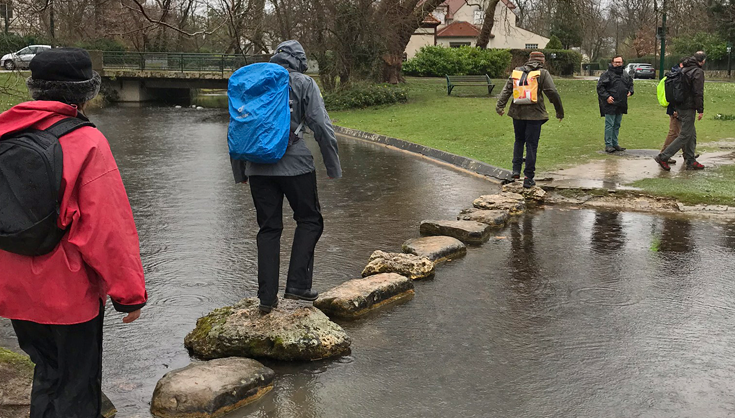 The environment gets gradually more industrial, and sadder historical remnants of graffiti inform a dialogue around the stories of Arabic immigrants being murdered en-masse in recent history, and its current erasure from contemporary histories barring a few small tributes is touched on.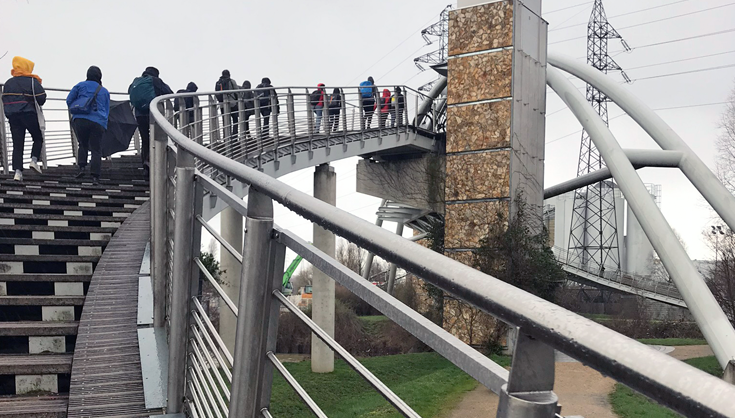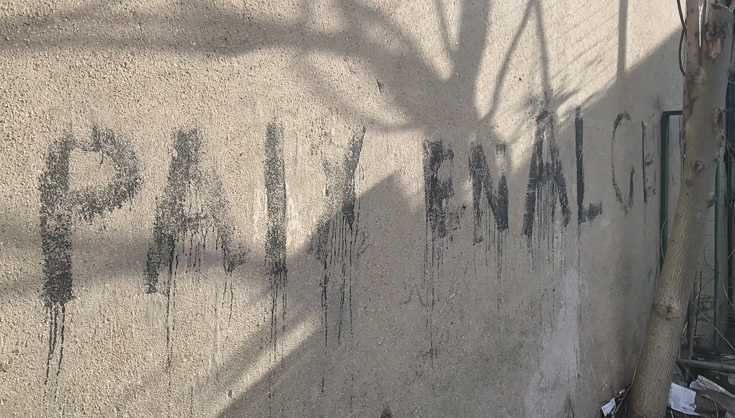 The area was a shanty town until recent years when it was erased from the public imagination. A new photography exhibition on the fence around the river depicts the shanty towns in black and white photos taken with a detached observational style that tells the story although perhaps without the personalities that undoubtedly existed having a voice. Raising the question on our mostly white middle class walk where are those communities now, and how are they represented here in person?
Alexandre introduced us to the concept of the audio experiment "La Grande Caravane" creating a journey through a trail by inviting people who live or work along the route to contribute to an event happening to celebrate the places they live linked though walking trails. It is in their words; "A collage of 5000 km2 [around Paris] over the course of a year-long walking trip, over 600 km."2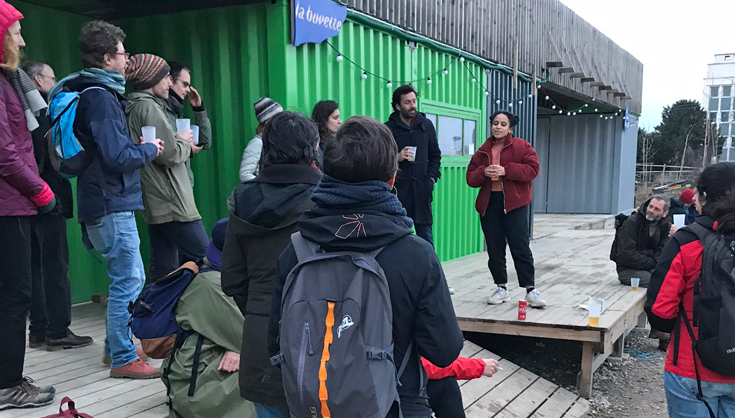 After a fair days walk of around sixteen miles walking we finally we arrived in the "B Zone" of 'La Défense.' The area overwhelmed by modern new buildings including  the Paris Nanterre University. Some older buildings have been appropriated as artists' studios 269-287 Rue de la Garenne is an example of this, and if we have learned anything in the UK from London it is where arts and tech start, development and gentrification will surely follow – whether this is an applied philosophy or a natural germination I couldn't tell you. 
Our final destination, 'Yes We Camp3' is a community project which develops abandoned pockets of land in Paris. They left us with messages of encouraging developers to create green space. But here in this hinterland between the former shanty towns, amongst the tiny traditional houses and massive towers blocks of redevelopments, it's obvious that land here is cheap and development is fast.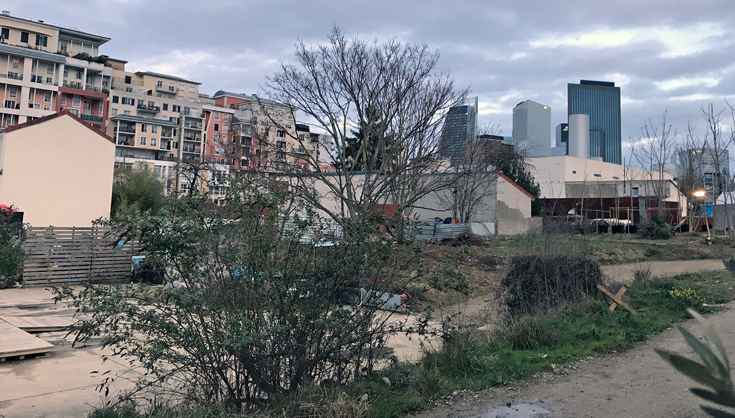 Yes We Camp create workshops, small community spaces and a bar with staff accommodation on site, and are delivering a promise to create small pockets of green woodland on the site, with the help of the community, and when their meanwhile use is over in five years the developers have agreed to keep this small green space as part of their development.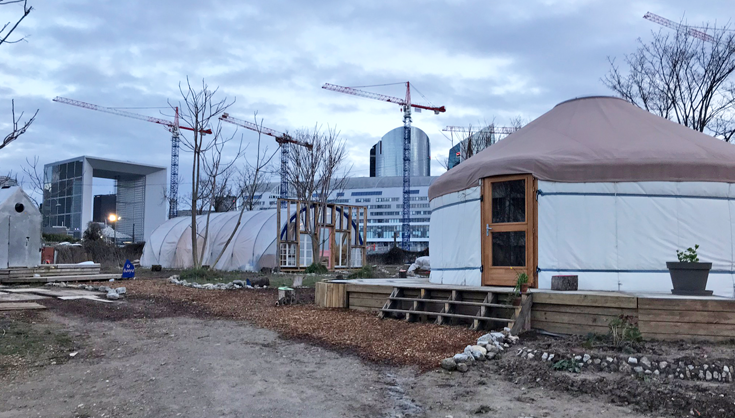 As I look at the landscape of tower blocks I feel this may be too little too late, and the value of green space for those residing in the area could have been better addressed by a large scale green space such as a park, but small victories are still to be applauded. In fact we are told site was so polluted with oil and heavy metals they have added one plus meters of clean top soil across the area just to plant it.
As modern buildings tower over this tiny plot you can only hope that the work of Metropolitan Trail of Greater Paris and La Grande Caravane serve as a record for the histories erased by councils and developers –  a reminder that a place is more than just a place but the sum of the people who exist and have existed in it, as we remember the Romans and the Celts before them all, they have their place in history.
Sara Hayes MA
The Public Art Company
References:
1 https://metropolitantrails.org/en
Metropolitan Trails are a new kind of public space. These social platforms are designed to reconnect us to our living territories, and to include inhabitants and experts to a vital conversation on post-petroleum cities. Transport infrastructures, tourist facilities, off-wall cultural centres, open-air schools—Metropolitan Trails are an international urban innovation, born in France and Europe.
Originating from the worlds of art and planning, urban hiking has now become a social phenomenon.
2https://lagrandecaravane.com/
Brief geographies, over the locations of the construction of the Metropolitan Trail of Greater Paris. A vast collaborative portrait of Very Grand Paris.
Since 2013, Yes We Camp has been implementing processes to transform defined spaces into open, generous and creative micro-territories. Depending on the context, these places borrow the qualities of what can be a park, a school, a care center, a fablab, a public square or a beach. We bring together around these temporary projects the desire to involve people from multiple backgrounds. We wish to affirm the city as a fertile ground, where spaces are shared with confidence and constitute a source of achievement and individual fulfillment, with a collective benefit. Today, the permanent Yes We Camp team, based in Marseille and Paris, brings together around fifty people who share the same desire to contribute to the contemporary world