Voluntary Artists Opportunity
As a local resident artist on Kinetika's new Beach of Dreams project it's my great pleasure to invite you all to get involved and take a small part in its creation!
Beach of Dreams is an epic journey to discover the hidden gems of the East Coast of England, inviting collaboration from communities and artists along the way in Suffolk, Essex, Southend, and Thurrock.

Kinetika's Artistic Director, Ali Pretty, and Guardian journalist Kevin Rushby are walking the entire route, joined by artists, writers, scientists, and local residents. Together, guided by strong environmental themes and the challenges of our current time, they will consider the question "How can we creatively reimagine our future?"

Get involved, share a location, and share your dream!

Ali Pretty, Kinetika
Everyone is invited to choose a mile to walk, submit two images of the landscape, a drawing and a few words about your connection to it and your dream for its future. All words and photos sent in will contribute to a new digital story map of the coastal path, reflecting and recording the narrative of the walk as it unfolds.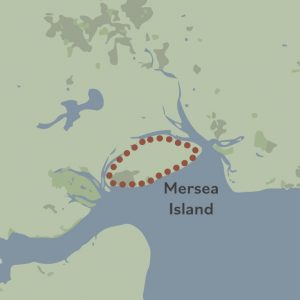 Beach of dreams is a not for profit project and your participation will be voluntary, however a small piece of your artwork as an integral part of this project spanning the East Coast of England, the opportunity to take part and join the walk for your mile, plus your profile will appear on the website and the flag you design will be part of a number of installations as part of the event along with 500 others!
How to Take Part (it's easy!)
Select a day/walk: https://kinetika.co.uk/beach-of-dreams-walks

Then click on 'Select a Mile' and fill in the short form.

Then get outside, photograph and write your thoughts on your chosen location and submit them to the project. If you can draw you can submit your fully completed artwork, (see guide on the website,) if not artists like myself will draw it up for you!
Open to anyone, 500 miles are up for grabs to take the opportunity to be part of something bigger!
Want to know more?
You can find the activity pack for creating your own flag here: https://kinetika.co.uk/beach-of-dreams-activity-pack