Portugal July 22nd – July 24th 2020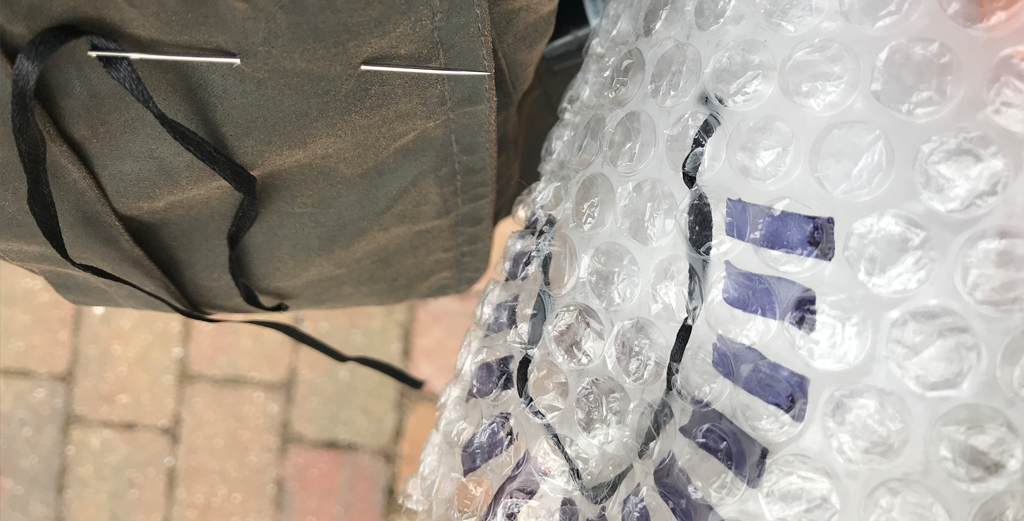 This is a lockdown first, reviewing an online Walking Conference!
I was interested to see how the event would translate, particularly as some have suggested I could move the event I was planning on-line, I had decided face-to-face interaction was too important to lose… So I was sceptical, but I have to say the team at Walk Lab proved me wrong!
I signed up for attendance of all the events with the intention to attend as many as I could whilst doing my day job in the background…
After a little confusion on where the opening event was, I presume it was live in Portugal where the event was hosted, the first event I attended was a series of Zoom talks, including Laura Apolino introducing her project 'The virtual "guide dog": dialogical drifts.'
I signed up to take part and was allocated a colleague in Portugal to team up with. We arranged a morning walk or 'dialogical drift' (on day three) guiding each other over WhatsApp – Nicolau and I swapped walking interactions for thirty minutes each, me in the UK, and him Portugal.
One of his creations with my instructions: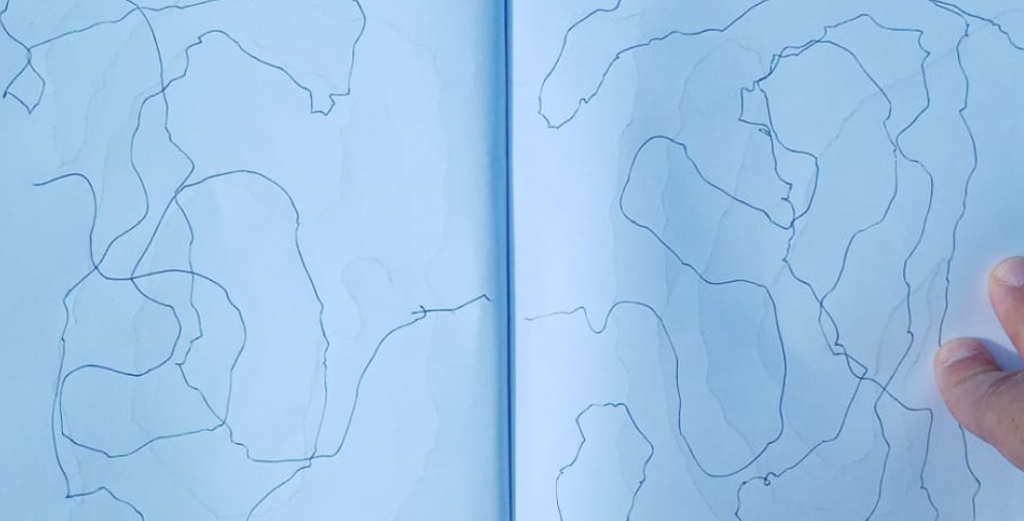 My response to one of his instructions as part of the drift: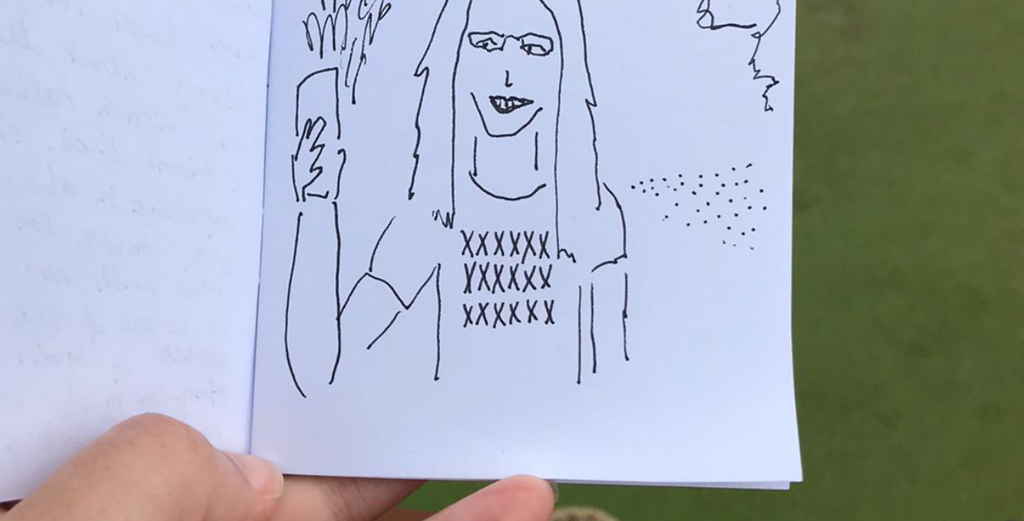 We both thoroughly enjoyed participating, and decided to extend our time from 20 to 30 minutes which was as well as what you can achieve via text communication is slow to share and the time goes very quickly walking and doing tasks, it is quite intense!
Day one Taine Ng-Chan introduced the HPU & ARTCARTO – and their Zoom entitled 'A Sense of Impending Doom: a strata-walk for turbulent times.' These guys got us up and about from the comfort of our desks while attending over Zoom, with interactive experiments and mini-walking adventures in our own spaces they re-interpreted what the walk as art can mean during lockdown.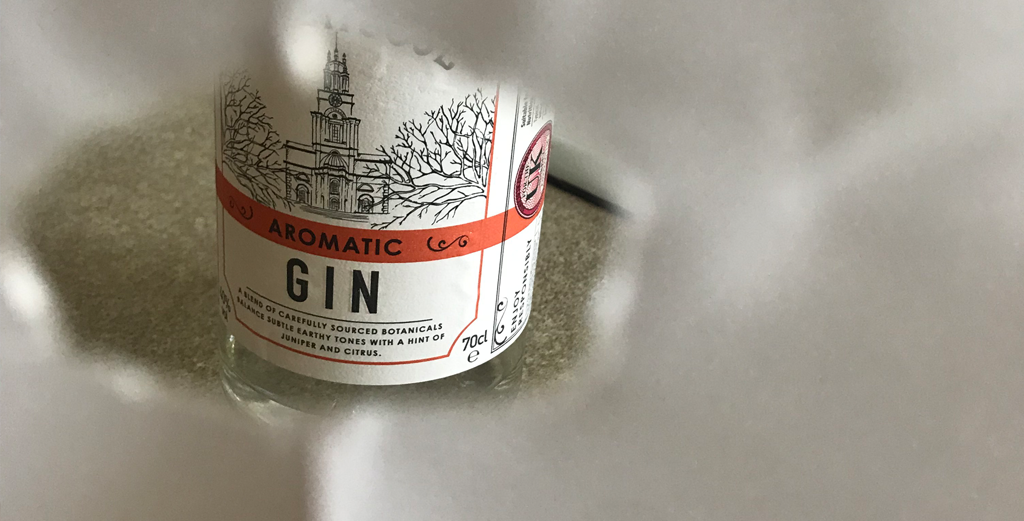 My first walk of the event on day two was via artist Rosie Montford:
'Vade mecum' is a Latin term meaning literally: go with me. It has been in use since 1629 to describe guidebooks or manuals compact enough that they can be carried in a deep pocket and to which constant reference can be made. I propose to show the value of carrying such a book around with you as you follow a route: …transposing it from its origins as a personal book to instead becoming a collective fabric: we will individually work en route, sewing and threading a continuous strip of sewing canvas using thread, wool, string, cord and anything suitable we find, as well as drawing directly on to the canvas, using our pockets to carry materials.
I made do with a strip of bubble wrap, as it was all I had to hand, and set out with my pockets stuffed on a sunny morning. I navigated my way along the Roman Wall and into the park via old Roman alleyways. I found the whole process very enjoyable in fact my first creative expression since lockdown, as unlike some I have not found being locked away any sort of creative inspiration!
At one point I sat in the sun in the park to add details to the piece, I think the hardest part was walking and sewing which I didn't really achieve but I stopped at points along the route to do it!
I love this kind of participatory walk practice, and Rosie set out at the same time as me to create a piece, which was interesting but we did not interact en route.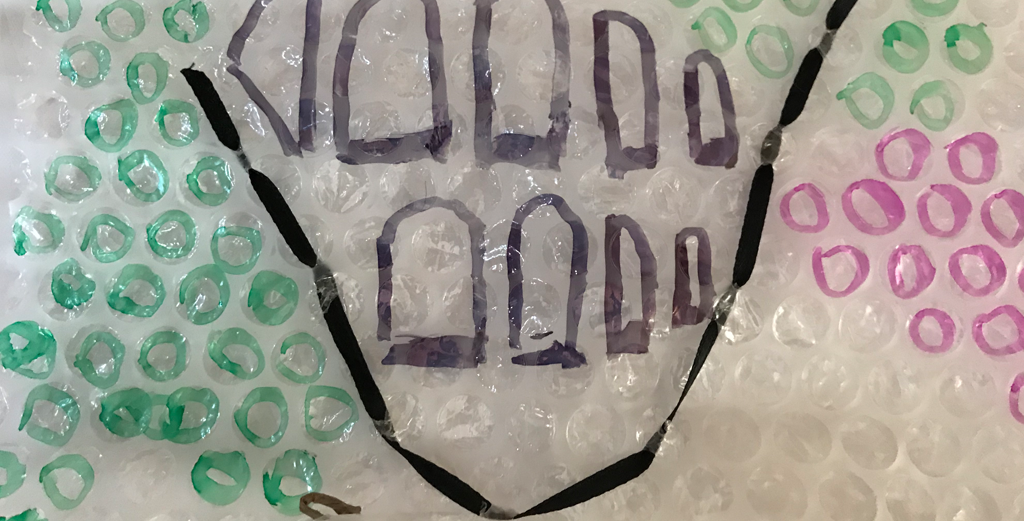 Day two and some of the Zoom calls were in Spanish so I ducked out to do some work with the discussions on in the background. We ended the day with a group walk of about 15 different people/groups, in multiple countries doing a water based walk and interacting over WhatsApp with artist Lenke Kastelein.
We walked along water, in our relative locations, and posted pics and chats, Lenke posted poems and thoughts and gave us tasks to complete around water. This was great fun, there was a real sense of interaction, my only mistake was not fully charging my phone before we set off, so I fairly quickly ran low on charge, but somehow it eaked out all the way back on about 2% battery!
It also opened up issues about women walking alone at night and womens safety, which was a discussion in the Round Table Group in Zoom, which overlapped before we left – it was great to hear the issue firstly vocalised, and hopefully the seeds of addressing it will grow. I for one bought someone along for the walk as I wouldn't have felt safe walking the wharf at night alone.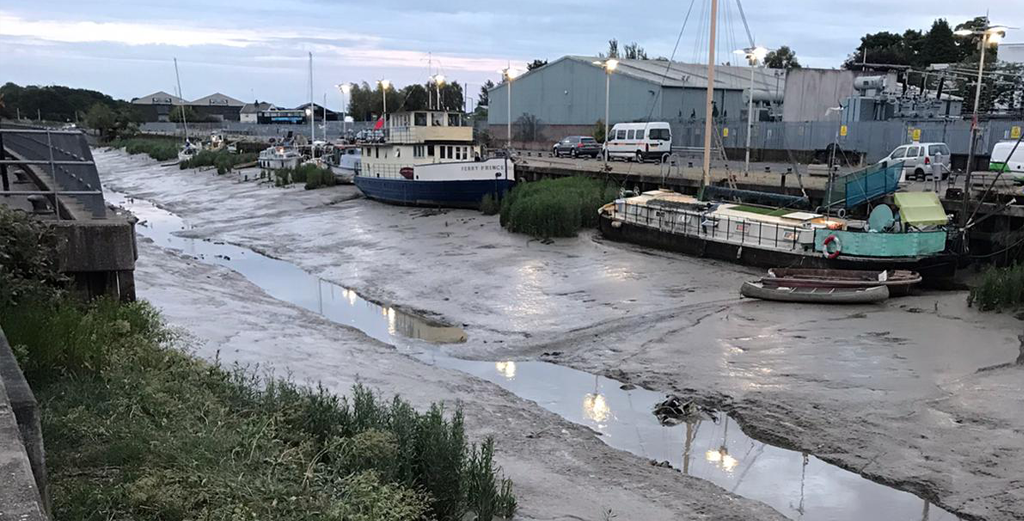 It was great to really feel like we were doing this and the other walkshop events as a group/team, not just stuck on Zoom ruminating on whether to show your video or hide behind a place holder so you can do other things…
Day three having done the walk in the morning with Nicolau, I didn't get to as many of the Zoom's (I think a few were in Spanish.) But I did tune in for the last Zoom session and closing remarks which had upwards of 50 or so in attendance. I can honestly say I felt a little sad to say goodbye to everyone, and felt we had had a fully interactive conference experience over the three days through the walking elements of the conference.
In summary I think it really is possible to have the full conference experience via Zoom and independent participation in events, although this may be uniquely applicable to walking! If you attend with some high-calorie break out snacks, and make the effort to interact in the chat section (something I promote in my own events) and though participating in as many of the events as you can, you really can leave the conference with new connections and feeling inspired by what you learned and those you met!
More info about the event: https://walk.lab2pt.net/